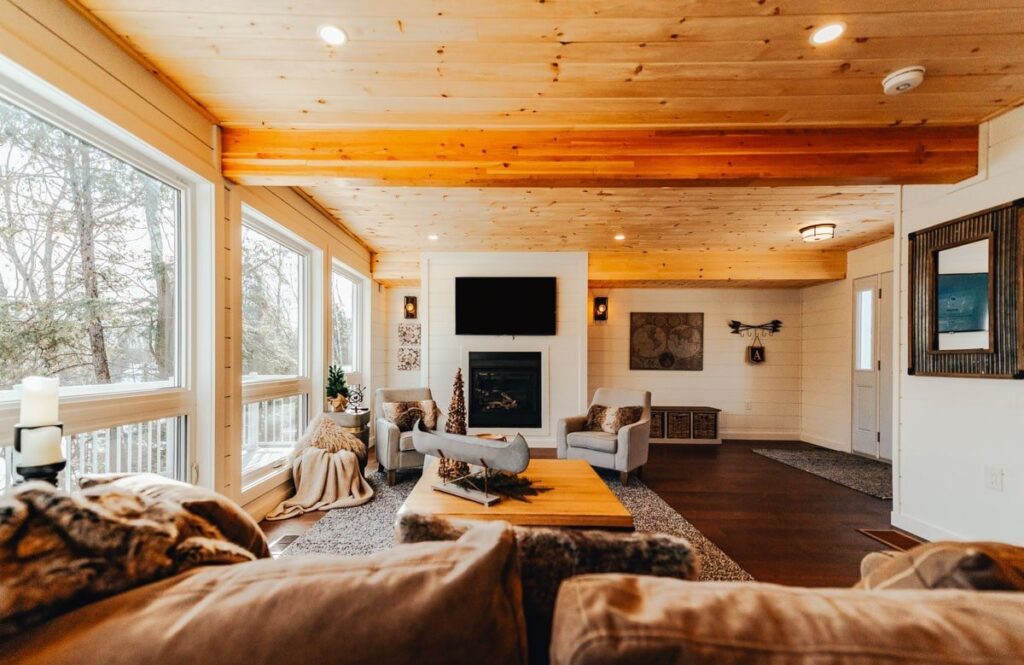 You're trying to find a home design style that might work well for you.
But you want to find the type of home that suites your taste while ensuring that it will age well as you wake up (or visit it) year after year.
You want a home that will stand the test time and you don't want to make the mistake of starting your design off on the wrong foot.
You need expert advice.
Fortunately, we've got everything you need to know about every type of post and beam home available. In this post, we'll cover the benefits of post and beam homes, as well as prove some tops and tricks to help you choose the right one.
And we won't stop there, we'll also provide you with our top 3 best post and beam designs on the marketing including interior designs for kitchens and bathrooms.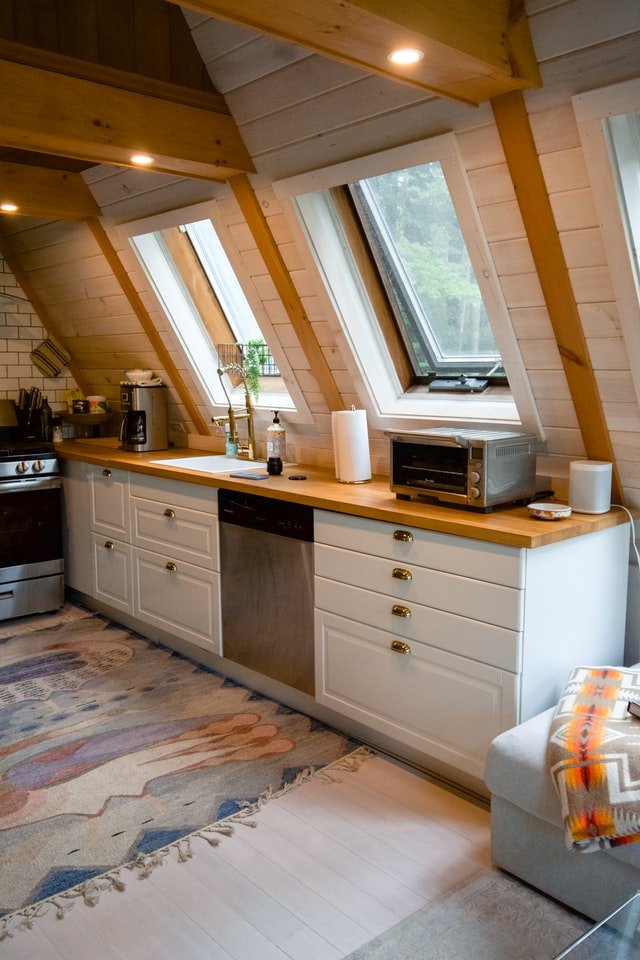 Introduction To Post And Beam Homes
In case you're still new to the world of post and beam home designs, we'll provide a brief history and some benefits below, as well as tips about choosing the right one for your investment property or family.
A Brief History
Even if you are new to the different home designs, once you've seen a post and beam style home, you'll begin to see the same building structure everywhere you look. This is because the use of post and beam constructions dates back to the 16th century. Large timbers would be carved and joined together with large pegs, or cut in such a way that they wedge and slide together, locking themselves into position.
The timber that is used for the structure of post and beam (some can also be known as timber-framed homes) only needs to be cleaned and not processed into smaller pieces like 2×4's. This meant that early cities were able to create prefabrication systems for homes using the post and beam style, which helped them to house large neighbourhoods in short periods of time.
Since then, post and beam homes went from being used for most homes to a style which leans on the unique qualities of the exposed timbers.
With that in mind, now is the best time to look into building a post and beam home for your family.
Benefits of Post and Beam Homes
The benefits of post and beam homes utilize large vertical wooden beams which will have multiple beams laid across them. This means that there are only a few large structural pieces necessary to build the home.
The main benefits of post and beam homes include:
Structural Design Advantages

Large Windows
Expansive Interiors
Compatible with almost any finishing materials

Fire Resistance
Energy Efficient
Shorter Build Time
Well Suited for Prefabrication
Customizability
Types of Post and Beam Homes
There are many different types of post and beam homes, which can make the search for the right one feel overwhelming. We'll take a dive into some of the broad types of home building styles below before outlining the benefit of each.
Timber Framed Homes
A timber-framed home and a post and beam home both use large timbers as the skeleton of the home. It is self-supporting, and carries the weight of the home.
The difference between a post and beam home and a timber frame home comes from the style in which the timbers are joined. Timber framing uses a traditional style of joinery which originated in midievil times. This means that there were very few, if any metal parts which helped to fasted the pieces together.
In a traditional post-and-beam house, the timbers are connected through the use of metal fasteners and connectors.These fasteners can be hidden within or ornamentary. Builders can use these ornaments to showcase the house and link them with other design features.
Even though these metal joiners can be expensive, the skilled labour that you need to link the timbers together on a timber-frame home should also be taken into consideration.
Hybrid Post And Beam Homes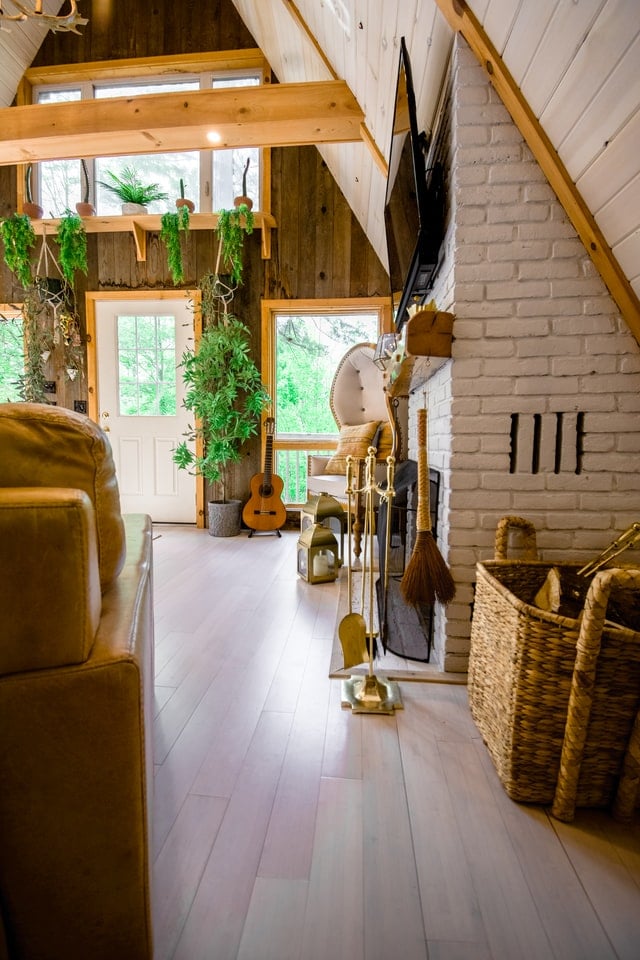 A Hybrid Post and Beam Home is one which only uses full sized timbers for specific areas of the home. This style means that most of the home can be built in the classic stick frame method which can save a substantial amount of the budget that you might want to use somewhere else.
Often, hybrid post and beam homes will have exposed timber above the entrance or above the windows and garage door.
Inside the home, tall ceilings are often done with the exposed trusses, with beams throughout the kitchen.
The hybrid post and beam home uses timbers only where they offer additional value over and above the structural benefits. Saving you money while showcasing a timeless style.
Prefab Post and Beam Homes
Normally, homes are built on-site. The builder will order rough estimates of every piece that they will need with an additional 10% to cover any miscuts or changes that might happen during the life of a build.
What happens then, when a home is manufactured off-site in a factory and transported to the lot. The work of putting these pieces (or modules) together saves the homeowner a lot of money. Often, there is much less waste when choosing to build a prefabricated home (even when it is customized to your needs). On average, a prefabricated home is "10 to 25 percent cheaper".
Money is saved on these homes because the materials are mass-produced on an assembly line at a factory.
Just because it's a prefab home doesn't mean that you are going to be missing out on customizations either.
You can often select between different trims, layout configurations, kitchen appliances and finished as well as changing other parts of the home which could have a positive impact on your pocket-book or the livability of the space.
3 Benefits of Post And Beam Homes
You want a beautiful home, but you also want to be able to customize it to exactly what works for you and your property.
Large Windows
When you have a beautiful view, or a wall that's facing the sun, you might want to take advantage of it!
Post and beam frames carry the load of the house, meaning that the space in between these is completely available for any design that you can dream up. Often, large 8' wide windows from floor to ceiling are used with this home design type. Giving those who live in the home plenty of sunshine and views.
Expansive Interiors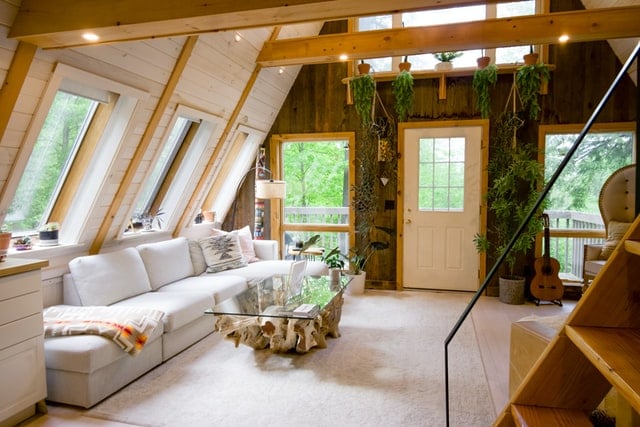 The load bearing strength of the post and beam home also means that you won't have many (if any) load bearing walls inside the home. This means that open-concept living is an easy thing to accomplish for the new home builder (or renovator).
Without the need for excessive walls inside the home, the kitchen, dining room and living room can be separated how you choose to separate them and not out of necessity. And lofts overlooking a living room can share the same floor to ceiling windows and vaulted ceilings.
Fire Resistance
Timbers used in construction of a post and beam structure must be very dense and strong because it has to hold up an entire home. Traditional stick homes, on the contrary, don't need to be very dense at all because there are so many of them that are used to frame the home and keep it erect.
The dense wood is far less porous and therefore much less susceptible to fire.
Energy Efficient
Houses, cabins or cottages can be very energy efficient because their design is simple. The walls of the exterior can be designed with high levels of insulation in colder climates to suite your needs. The beams themselves are also extremely dense (as mentioned above), meaning that they will increase the thermal density of the home. This means that their temperature is changed far more gradually than a porous wood.
Additionally, there is very little settling of the house after it is complete. The joints won't move or open up as they would in a traditional stick frame home, so the seals stay tight, keeping the cold air out.
The Value of a Post and Beam Home
In short, post and beam homes can be a lot of things for you. If you are really excited about having something which is timeless and can be prefabricated to save you time and money, then this style of home can work for you.
Reach out to us today if you would like to learn more about how a post-and-beam home could work for you.